Above: Our two little girls help Andrew with the grind.
One of our neighbors brought over a great coffee last weekend. It was San Cristobal from Quills Coffee. I hoped to have this post up sooner but the computer ate the images on the SD card and it took a bit of work to recover the images.
As you see from the picture above we had plenty of help with the hand grinder.
It was a very sweet, almost brown sugar tasting cup. We also noticed the beans had much more of light brown color than a deep black color.
After checking out the Quills Coffee site we learned that the beans are "honey processed" which means it skipped the traditional washing tanks and is dried with all or some of the sticky fruit pulp or "honey" sticking to the bean.
Whatever they during the processing and roasting gave the beans a great taste.
San Cristobal Coffee Details
Importer: Thrive Farmers: http://thrivefarmers.com/
Farm: A group of small producers in the Chiyic Community
Region: Coban
Process: Honey Processed
Varietal: Caturra, Burbon, Typica
Elevation: 1,400 - 1,470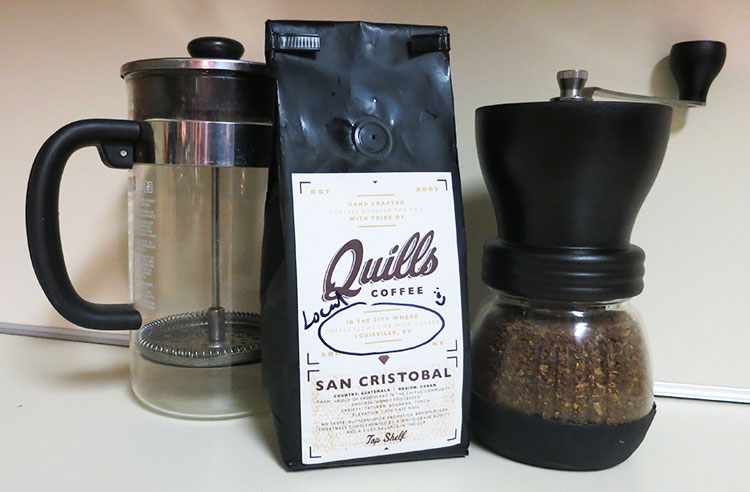 It appears that the coffee is no longer for sale at Quills, maybe it will come back maybe it is gone forever. Here is one post that mentioned it on their blog.
http://quillscoffee.com/blog/2013/11/25/quills-currently-featured
About Quills Coffee
Located in Louisville Kentucky, Quills Coffee was started by Nathan & Amy Quillo. In 2007 Nathan and his brother Gabe opened up the first location. They now have three cafe locations as well as their own roasting operation.
If I ever make it to Louisville I really hope to check one of their locations to get the fulll experience.
Thoughts
Everyone really enjoyed the coffee. As you can see from the pictures we had about a half dozen kids 5 and under running around, so needless to say our home was not coffee house quiet and I could not devote 100% of my attention to the coffee.
It was really great and would love to try it again and learn a bit more about the "honey" washing process.
Here are a few links that explain more about the semi-washed or honey processing method:
It was a great cup and I look forward to trying more selections from Quills Coffee.
Has anyone else tried San Cristobal? Anyone been to a Quills store?
I would love to hear about others experience, please post in the comments.