What is .COFFEE and a Top Level Domain?
.COFFEE is a new top level domain name (TLD). A top level domain name is the last part of the web address. Think .com, .org, .edu, etc. For most of the Internet's history top level domains have been fairly limited to around 22 names plus the country extensions.
All domain names are managed by the Internet Corporation for Assigned Names and Numbers (ICANN). Several years ago ICANN decided to expand domain names to include General Top Level Domain (gTLD) names.

Fast forward a couple years and you will soon be visiting .COFFEE, .CLOTHING, .TATTOO, .GRAPHICS, and .BIKE. and up to 1,000 more. Check out the full list of new gTLDs.
Why do we need new domain names?
As more and more websites are created, good names are increasingly difficult for companies to find. The Internet is almost down to just those with long complicated names using dashes and crazy spellings.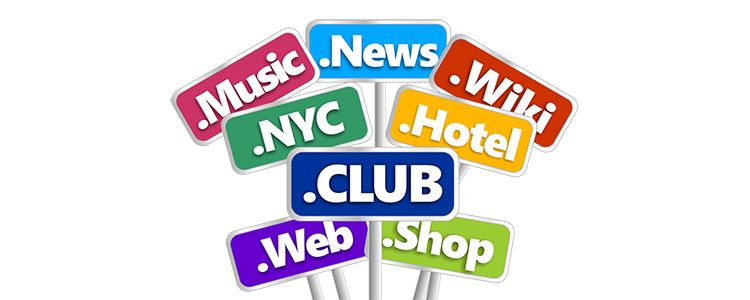 By creating new top level domain names, ICANN has made available more options companies can choose from. Also by allowing general names, the home is there will be more context about the websites subject matter. It will be pretty easy to guess what Gales.coffee and Gales.bike are going to be about.
In theory it should be helpful to everyone, more possible names and more descriptive names.
Will these new domains be successful?
Will these general top level name be succcessful? Who knows.
Over the years ICANN has expaneded the TLD names. Some have caught on, like .LY (bit.ly) .ME (stevenjohnson.me). Others have not like .BIZ, .INFO, and .MOBI Sometimes the name resonates with people and sometimes it does not.
Will these new gTLD names be a big deal? Yes and No.
Yes. It will be cool and kind or novel to visit stumptown.coffee or rev.coffee. When you go to a .coffee site you know exactly what the the site is about.
No. You now have to keep up with even more names, which can confuse people. Businesses will have to spend a lot more money protecting their name and figure out how to manage all of these names.
When it is all in all said and done, you will still be visiting a website with the the same information.
I found a couple of opinions about the new gTLDs:
.COFFEE registration process
.coffee is not open for general registration. Open Registration will be on April 2, 2014
There are two phases before .coffee names are available to the general public. They are sunrise and pre-registration.
Not sure what these phases are? Neither was I.
I had somewhat of an idea but not 100% sure on the specifics. So I called up enom (my registrar) and this is what I learned.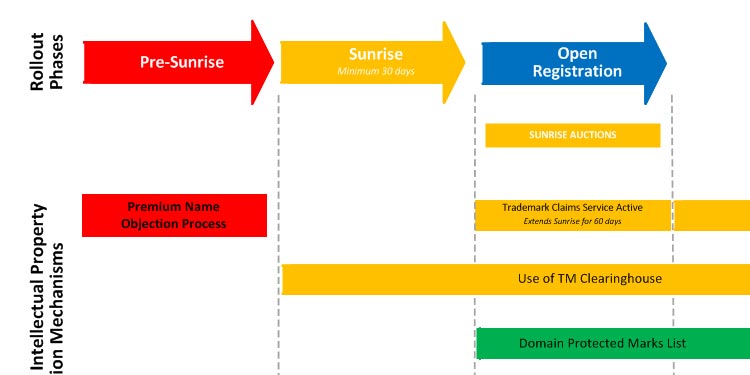 Sunrise Phase (January 28 - March 29, 2014)
This phase is for companies with trademarked names, companies that paid a lot of money to have the little ™ mark next to their company name. Think Starbucks or Folgers. Established companies with lawyers.
If your company name is trademarked then you have first shot at getting yourcompanyname.coffee.
If you have a trademarked name that relates to coffee you are probably the best group to own that domain name and check out this site http://trademark-clearinghouse.com/ to learn more about proecting your name.
Pre-registration phase (January 28 - March 29, 2014)
For those who do not have trademarked names, you can apply in the pre-registration phase and will be in a lottery to reseverve the new names when they become available.
Want black.coffee or reviews.coffee? There will be lots of competition. If you are after obscureroastername.coffee your odds are pretty good.
When the new names become available all the registrars will compete with each other to see which one of them gets the name. The registar will then assign it to the person that pre registered the name.
Where to order
GoDaddy, Register.com, Network Solutions, Enom. Almost all of major registrars will allow you to register .coffee names.
It is generally best to register your name with one of the larger more well known companies.
A few places to order names: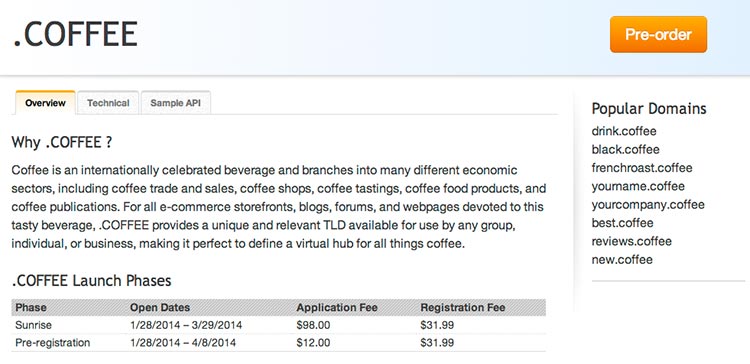 Details about the group managing .COFFEE
.COFFEE will be managed by Trixy Cover & Donuts.co
Donuts.co has registered to manage hundreds of top level domains. Trixy cover sounds like it is a part of donuts.co.
What do you think?
Is .COFFEE a good idea / bad idea? or is just one more think for coffee companies to keep up with online?
Love to hear your thoughts.
If you plan to get a .COFFEE name. I wish you good luck.
-- Steven