Interested in purchasing a box of the best? It's easy.
Send $25 (via paypal) to This email address is being protected from spambots. You need JavaScript enabled to view it. and we will ship a box to you. We are down to our last 10 boxes. It is a first come first serve basis.
We are currently switching to an improved ecommerce platform to make subscriptions easier. The new system should be in place by our February release.
January 2014 Selections
Watch a cool video of me explaining this months offerings:
We tasted lots of coffees and had several blind cuppings to determine the best. Here is what we decided upon, two from Central America and one from the Yirgacheffe region in Ethiopia. All are fantastic. Here is the rundown.
Ethiopia Beloya from Oil Slick Coffee
Costa Rica Genesis from Verve Coffee Roasters
Guatemala Finca La Bolsa from Rev Coffee Roasters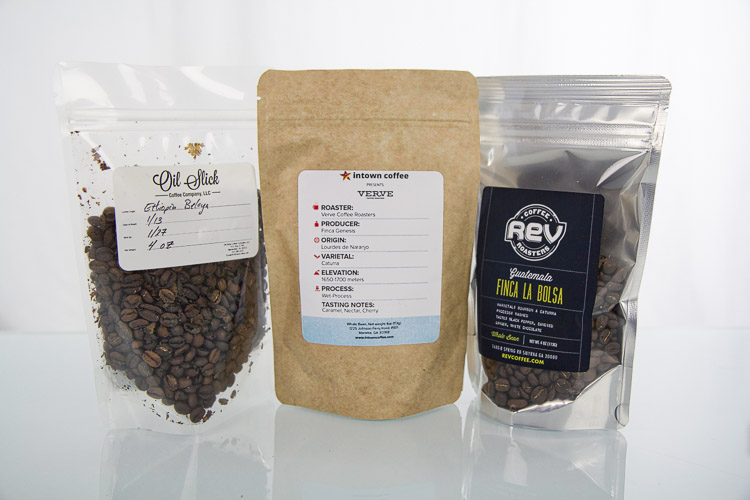 The three specialty coffees in our January box.
Ethiopia Beloya from Oil Slick Coffee
Distinct Floral Aromas with hints of Chocolate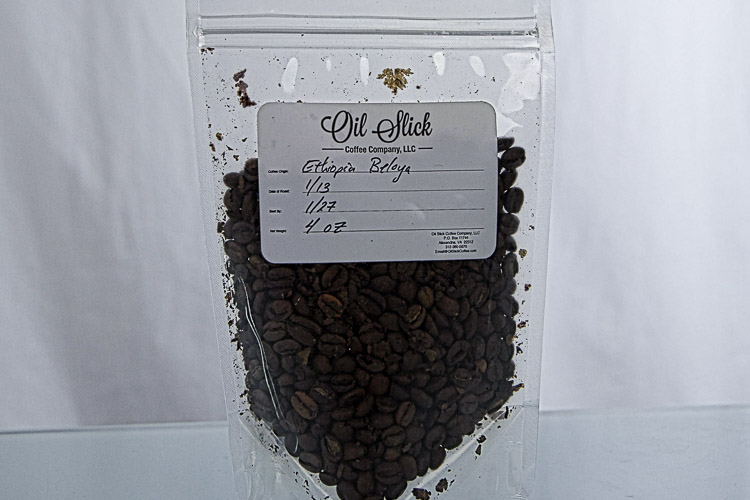 This specialty coffee is from the Yirgacheffe region, produced by members of the Yirgacheffe Coffee Farmers Collective Union (YCFCU). The YCFCU ensures that coffees are produced in a sustainable manner and that the farmers get fair representation in the industry.
This is a naturally process coffee which means it was processed with the pulp on making it sweeter than wet processed coffees.
Best way to brew: It will be good anyway that your brew it. Our favorite for this roast is through a Chemex. You will get a very clean pronounced cup of coffee.
Coffee Details:
Producer: Yirgacheffe Coffee Farmers Collective Union
Country: Ethiopia
Region: Yirgacheffe
Varietal/Cultivar: Heirloom
Process: Natural (Dry) Process
Elevation: 1800 - 2100 meters
Tasting Notes: Distinct floral and fruity aromas with hints of chocolate
About Oil Slick Coffee:
http://oilslickcoffee.com/ Established in 2012 and located in Alexandria Viginia. They started with a 1 kilo roaster and selling roasted coffee at farmers markets.
Oil Slick focuses on single origin, specialty coffee in a very accessible manner. They are there to help everyone learn more about where coffee comes from, how it is grown roasted and brewed.
Intown Coffee had the honor of interviewing the Founder Michael Wright. Check out the Oil Slick Interview to learn more about them.
Learn more about Ethiopia Beloya
Guatemala Finca La Bolsa from Rev Coffee Roasters
Black Pepper / Candied Ginger / White Chocolate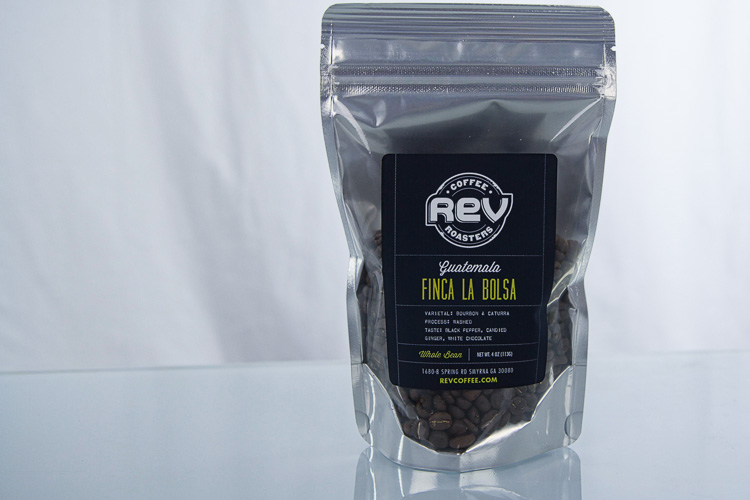 A big coffee from a tiny microlot high in the hills of the Huehuetenango Highland Coffee Presidium. Some interesting things about this scrumptious coffee are: in 2002 it won 2nd place in the Guatemalan cup of excellence; it is a mix of bourbon and caturra varieties; and it is fully washed and sun dried.
Best way to brew: hard to mess this coffee up but we prefer a Kalita Wave.
Coffee Details:
Producer: The Huehuetenango Highland Coffee Presidium
Country: Guatamala
Region: La Libertad, Huehuetenango
Varietal/Cultivar: Bourbon & Caturra
Process: Washed
Elevation: 1500-2000 meters
Tasting Notes: Black Pepper, Candied Ginger, and White Chocolate
About Rev Coffee Roasters:
http://www.revcoffee.com Established in 2007 and located in Symrna, GA, just North of Atlanta, they have both a cafe and a roastery. Started by Nick Bimmerle and head roaster Aajay Murphy they aim for excellence in everything they do. Their cafe is an old auto garage. They took an uncomfortable space and turned it into a community gathering spot.
Learn more about Finca La Bosa
Costa Rica Genesis from Verve Coffee Roasters
Caramel / Nectar / Cherry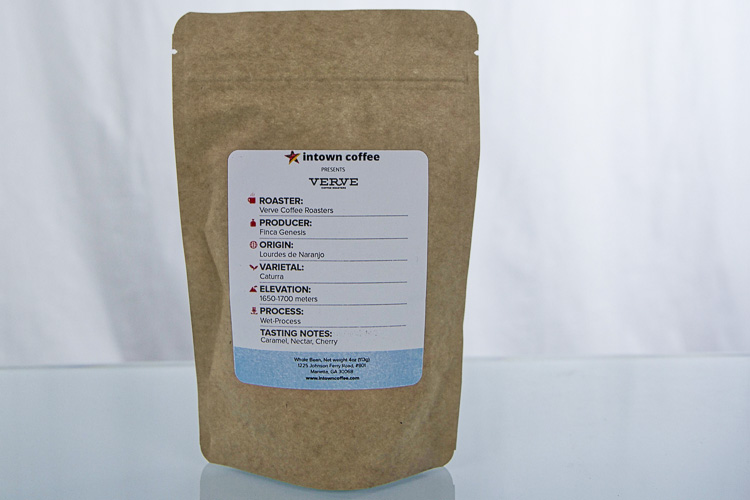 This lot from Finca Genesis is strictly Caturra variety and grown at 1650-1700 meters above sea level. The grounds of the farm are extremely well-manicured and taken care of. If appearance of a farm alone made great coffee, this lot would be the cream of the crop. Fortunately, the Mendez family take just as good care of their coffee trees as they do their flowers and ornamental plants.
Best way to brew: Any way is good. We like a Chemex for this one.
Coffee Details:
Producer: Finca Genesis
Country: Costa Rica
Region: Lourdes de Naranjo
Varietal/Cultivar: Caturra
Process: Wet-Process
Elevation: 1650-1700 meters
Tasting Notes: Caramel, Nectar, Cherry
About Verve Coffee Roasters:
http://www.vervecoffeeroasters.com/ Located in Santa Cruz, California, Verve operates a roastery and 3 cafes. The focus producers, exporters, roasters, and baristas who are paying attention and who want to make the each cup a quality experience.
Verve is definately one of the more established and well know brands in the specialty coffee world.
Learn move about Verve Genesis
Thanks!
For those who are members we really hope you enjoy our selections and can't wait to hear what you think.
For those who are not members yet, you don't know what you are missing so sign up and see what all the fuss is about.
Thoughts / Questions?
We would love to hear them in the comment section below.